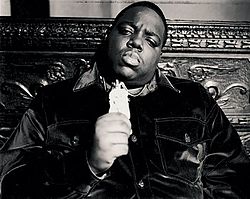 I've written (okay, fine, bitched) about the number of celebrities entering the cannabis space, and while it may be well intentioned, it doesn't always sit well with consumers who want their weed brands to have a legitimate connection to the industry.
A celebrity brand that gives back something to the community instead of its investors goes a long way toward establishing legitimacy in the eyes of consumers.
It's that whole "doing good while doing well" concept.
Now the scion of a hip-hop legend has entered the industry, sharing his story about his family's relationship with the plant, along with plans to give back to impacted communities with a portion of the proceeds.
Esquire interviewed C.J. Wallace, the son of Biggie Smalls, AKA the Notorious B.I.G. Young Wallace announced he has launched a line of pre-rolls that are named after one of his father's alter egos, the "Frank White Creative Blend."
The project is a partnership between Wallace's brand Think BIG and California brand Lowell Herb Co., whose website touts a review by Paper exclaiming their products are "grown in the most Portlandia way possible."
The pre-rolls features a sun-grown blend of three strains: Banjo, Orange Sherbet, and Rattlesnake Sour Diesel.
I've not heard of any of these strains, but some online research reveals they're something I need to try next time I'm in California, the only state thus far where they're sold.
The name "Frank White" is based on the character Christopher Wallken played in the insanely underrated movie King of New York, a moniker Biggie often used.
While his father's cannabis use was well known, Wallace explained a deeply personal connection: His brother has a nonverbal form of autism, which was treated with Ritalin and opioids before their mother began researching and using CBD as an alternative treatment, which they have continued to do with success.
On the back of the Esquire interview, The Root did a great report on the project and the work done by the benefitting group, California's Prison Arts Project. Established in 1977, the program works with inmates on a variety of platforms in partnership "with professional artists to create long-term arts experiences for incarcerated people."
Per the program's website: "Research indicates that participants in the Prison Arts Project are less likely to have disciplinary problems while in prison, and are more likely to be successful upon parole. Our current research project suggests that art classes provide a safe haven for inmate artists to learn and create art with others, build bridges between races and cultural groups, and help students maintain connections with their family."
The racist War on Drugs has extracted its greatest price from people of color and their communities for decades. Wallace says that companies presently turning profit in the cannabis industry are on the hook to do their part in supporting ways to address these injustices.
As he told Esquire, "Every other brand that's out there, if they don't have a criminal justice angle, they're doing a huge disservice to everybody. Everybody has, or should have, a responsibility to speak on that and do as much as they can to correct those wrongs."